Main text area
EuBioloigics

does its best to resolve the anxieties over epidemics and make a healthier world.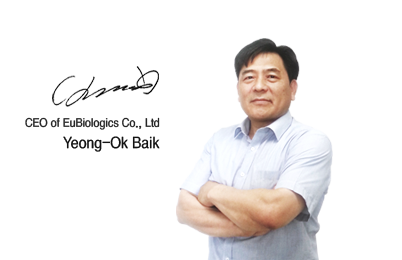 As a company specializing in biopharmaceuticals, EuBiologics develops new vaccine products with a goal of safe and effective vaccine distribution for global health promotion, and offers the CRMO (Contract Research and Manufacturing Organization) services to a variety of biopharmaceuticals, with its advanced facilities, professional workforce and rich experience in biopharmaceuticals R&D and production.

Founded in May 2010, EuBiologics was selected as the subject of domestic monopolizing technology transfer on the oral cholera vaccines of IVI(International Vaccine Institute) in September in the same year, and has been conducting commercializing researches such as non-clinical trials, phase one and three of clinical trials ever since. After five years, on December 23rd, 2015, it obtained the Prequalification(hereafter PQ) certification from WHO(World Health Organization). As a bio- venture company, we are proud of the WHO PQ certification of Euvichol®, as the evidence of not only the safety and effectiveness of the vaccines we have developed but also the excellence of our product management system.

Based on this, we are planning to enforce our cooperation with the top corporations in and out of Korea in order to promptly develop and supply preventative vaccines for global epidemics. Also, we intend to challenge ourselves to achieve the new goal of advancing not only into the public market but also into the advanced market overseas and achieve the sales of 100 billion won.

Also, we will continue our efforts to secure and maintain the global-level cGMP in our vaccine and biopharmaceutical development and manufacturing, as the core part and provide the supports as the strategic partners to the customers to the CRMO services we provide.

We appreciate your supports for and interests in our company.

Thank you.