Main text area
Euvichol-Plus® / Euvichol®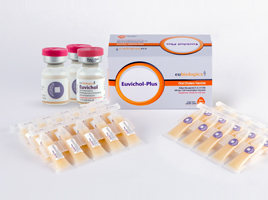 Euvchol®

| | |
| --- | --- |
| Product Name | Euvichol (Oral Cholera Prevention Vaccine) |
| Appearance | 1.5ml yellow to yellowish suspension |
| Doses | 2 given ≥ 2 weeks apart |
| Recommended age | 1 year and older |
Composition
Composition

| | |
| --- | --- |
| Vaccine strain | Quantity |
| V. cholerae O1 Inaba Cairo 48 (H) | 300 L.E.U* |
| V. cholerae O1 Inaba Phil 6973 El Tor (F) | 600 L.E.U |
| V. cholerae O1 Ogawa Cairo 50 (F) | 300 L.E.U |
| V. cholerae O1 Ogawa Cairo 50(H) | 300 L.E.U |
| V. cholerae O139 4260B (F) | 600 L.E.U |
H:Heat inactivated
F:Formalin inactivated
* LEU : Lipopolysaccharide ELISA Units
Storage temperature
2 to 8℃
Contact
Tel.: +82-33-817-4001 /
E-mail: eubio@eubiologics.com
Euvichol-Plus®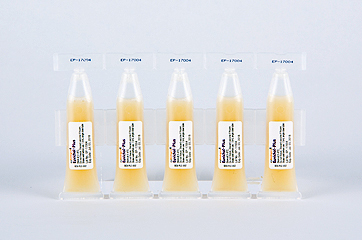 Plastic tube presentation

(Durable, light plastic tube / No buffer required)
Euvichol®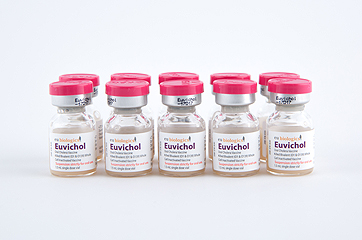 Glass vial presentation

(Tear-off type Cap / No buffer required)
* The first product from a venture biomedicine company in Korea to be PQ certified by WHO
* The third product in the world to be certified as an oral cholera vaccine
* The fifteenth product developed and produced product in Korea to be PQ certified by WHO
* The world's first plastic tube presentation OCV, Euvichol-Plus®

As an oral product to prevent cholera, a prevalent disease in developing countries, Euvichol-Plus® and Euvichol® have an advantage of causing no abnormal symptoms such as pain, edema, or rashes in the injecting body part. Also, it is anticipated to be distributed in the developing countries, where cholera is prevalent, through WHO, UNICEF and GAVI, as it can be conveniently taken without a separate buffering agent, and can be supplied in a cheap price. Euvichol® began to be supplied to all over the world by signing LTA with UNICEF from 2016. Recently, Euvichol-Plus® also received prequalification from WHO. From now on, the product will be distributed in disposable plastic tubes for easier storage and transportation as well as more convenient oral administration.